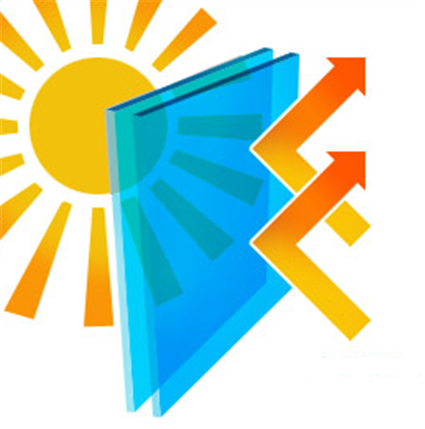 Energy-saving glass - the glass with a thin, nearly invisible coating with properties to pass visible light and solar heat radiation. Energy-efficient glass, which is known as Low-E glass with a soft coating - Comfort Plus (DSTU B.V.2.7-228: 2009), I-glass or Low-E, looks not different from ordinary window glass and is used in a batch version for glazing of translucent structures of buildings, interiors, glazing and other products for technical and household purposes. The coating thickness is a few hundredths of a millimeter, and it is hardly noticeable to the human eye. I-glass transmits sunlight without reducing the ambient light and reflects heat waves.
Glass with a soft covering (energy-saving glass) provides short-wave solar radiation entering, but prevents the exit from the premises long wave thermal radiation, for example from the heating device. This selectivity is called emissivity (glass with such coatings are called "selective glasses"). The lower the emissivity of the glass, the higher its energy-saving properties.
The use of energy-saving glass (I-glass) in the transparent glass design allows to achieve the following results:
get maximum value of the space daylight factor;
to save 45% of the energy directed to heating of buildings when compared with ordinary glasses;
rational use of energy (heat saving plastic windows are medium in size with energy-saving glass in one heating season is equivalent to burning 120 kg of liquid fuel);
reduce the waste of greenhouse gas (1 m2 of energy-saving glass reduces carbon dioxide emissions by 91 kg / year).
Do you want to order the photo printing on the glass additionally? Then contact us!
LLC "LEASING INVEST" company offers you a variety of types of glasses of all sizes, makes glass products for customer, including: flat tempered glass for land transport; tempered glass construction; glass for gas stoves, baking ovens, refrigerators, etc.
Contact for consultation or order:

Director - Rybalkin Sergey Alexandrovich
Phone: +38 (050) 571-31-16
Email: This email address is being protected from spambots. You need JavaScript enabled to view it.

Sales department:
Phone: +38 (050) 053-34-63
Email: This email address is being protected from spambots. You need JavaScript enabled to view it.

Sales department Kiev:
Phone: +38 (067) 233-53-80


Or use the "Back call" form and we will call you back.