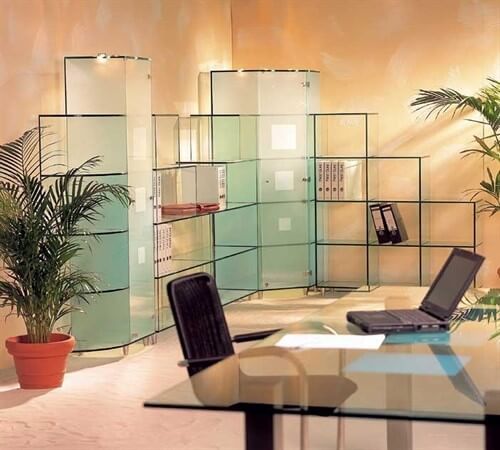 Due to high operational and aesthetic performance, glass furniture is increasingly used not only in residential buildings, but also in commercial establishments. However, the use of furniture from glass in the interior is associated with a number of features, largely due to the type of glass used in the production process and the methods of its subsequent processing. Given these and other subtleties, you can minimize all the shortcomings of glass furniture and laconically fit it into any design of the room.
Buy glass for furniture in Ukraine
Not so long ago, glass was used only for the manufacture of various kinds of shelves, kitchen facades and other interior elements.
Today, glass, magazine, dining, computer and office desks, curbstones, shelves, equipment racks, shelving, chairs, carrying a certain load in the process of their application are made of glass. In this case, glass can act as the only material in the manufacture of furniture, and be combined with metal, wood, plastic, leather. Depending on the purpose of this or that piece of furniture or its component elements, a certain type of glass is used.
Your inquiry successfully accepted, we will contact you as soon as possible.
Technical possibilities of production of furniture glass:
minimum sheet dimensions: 100 x 100 mm; 250 x 100 mm (tempered);
the maximum size of the glass: 3100 x 2440 mm;
thickness of toughened glass: from 4 to 15 mm;
Due to computer cutting in the manufacture of glass for furniture, the accuracy of the finished product is maximized. For durability and safety, LLC Leasing Invest recommends hardening of glassware for furniture, and for the decoration of such glass, we recommend digital printing or silkscreen printing.
Advantages of glass furniture:
a diverse range of models, differing in color, shape and size;
unchanged appearance throughout the life of the plant, because the furniture does not fade and is not deformable;
compatibility of glass with many finishing, as well as building materials;
water resistance, which prevents the formation of various kinds of mold and fungi;
ecological compatibility;
transparency and reflective qualities of the material make the room lighter and more comfortable;
simplicity of maintenance during operation.
In addition, glass furniture contributes to the visual expansion of the surrounding space due to the lightness and transparency of the material.
Would you like to order glass for furniture or do you have any questions, please contact us at the following phones for consultation:
+38 (050) 053-34-63
+38 (098) 184-84-00
+38 (098) 185-00-70
+38 (067) 233-53-80 (Kiev)
Or use the "Back a call" form and we will call you back.
Glass for furniture in Ukraine with delivery: Vinnitsa, Volyn, Dnepropetrovsk, Zhitomir, Zakarpattia, Zaporozhye, Ivano-Frankivsk, Kiev, Kirovograd, Lugansk region, Lviv, Mykolaiv, Odessa, Poltava, Rivne, Sumy, Ternopil, Kharkov, Kherson, Khmelnitsky , Cherkasy, Chernigov, Chernivtsi