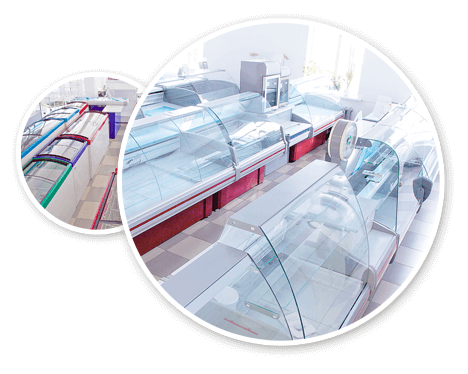 Our company has the opportunity to offer you tempered curved glass and flat glass for refrigeration equipment, such as:
refrigerating shelves;
refrigerated display cases;
display cases for sweet shops;
freezer chests / cabinets;
display cases for salads / ice cream;
refrigerating cabinets and others.
This glass can be printed using silk-screen printing using high-quality paints of various colors that correspond to the RAL table, or by digital printing using high-quality ceramic ink, without limiting the size of the glass.
We would like to draw your attention to the fact that the company considers all possible options for mutually beneficial cooperation for both parties, offering loyal conditions for payment of products and on the terms of its production. We also have the opportunity to provide a service for the delivery of products and to produce customs clearance. The products are fully certified by the manufacturer and comply with all necessary standards and current standards for safety and functionality.
Your inquiry successfully accepted, we will contact you as soon as possible.
Examples of tempered and curved glass in application to refrigeration cabinets:
Benefits of

tempered glass:

- high degree of heat resistance of stalinite

has increases resistance to thermal

influences and changes,

so that it can be used for

finishing the facades of any buildings;.

- minor impacts and loads can not break

the integrity of the glass, as the strength during

tempering that increased by more than five times;

- safety at impact such as glass breakage into small,

but absolutely safe fragments, unable to

inflict any damage to a person;

-high strength refers to the ability of tempered

glass to withstand significant bending

stresses, which gives it superiority over

common glass.
Would you like to order glass for refrigeration equipment or do you have any questions, please contact us at the following phones for consultation:
+38 (050) 053-34-63
+38 (098) 184-84-00
+38 (098) 185-00-70
+38 (067) 233-53-80 (Kiev)
Or use the "Back a call" form and we will call you back.
Glass for refrigeration equipmentin Ukraine with delivery: Vinnitsa, Volyn, Dnepropetrovsk, Zhitomir, Zakarpattia, Zaporozhye, Ivano-Frankivsk, Kiev, Kirovograd, Lugansk region, Lviv, Mykolaiv, Odessa, Poltava, Rivne, Sumy, Ternopil, Kharkov, Kherson, Khmelnitsky , Cherkasy, Chernigov, Chernivtsi