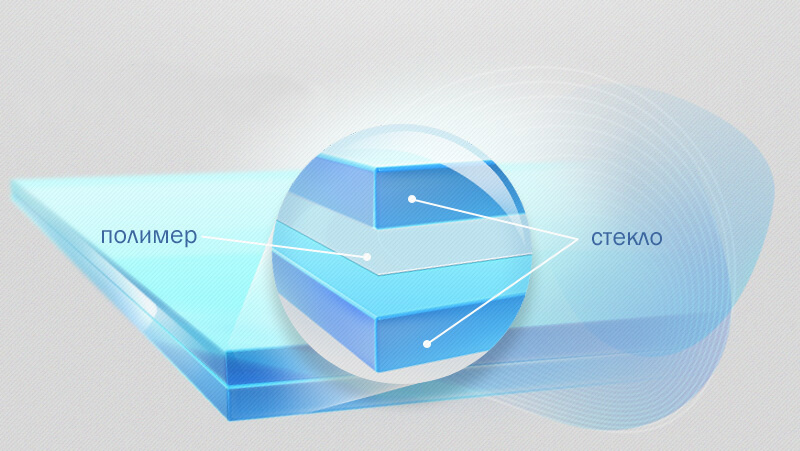 LLC "Leasing Invest" is one of the leading enterprises in the industrial processing of the glass in Ukraine and abroad. The company is engaged in production of various range of glass products, including laminated glass, with the use of high-quality specialty films PVB (polyvinyl butyral) Kuraray TROSIFOL (Germany) at the various glass thicknesses.
Lamination - a technology that links the concept of "security" and "glass" together. Lamination process represents a connection between two or more sheets of glass sealants polyvinyl butyral film under heat and pressure in an autoclave.
We are able to offer you:
a decorative triplex with using colored films or using a glass with a pattern applied by digital printing;
triplex mirror;
architectural laminated glass;
armored triplex;
constructive triplex with the possibility to use solar control, energy saving and multifunctional glass;
triplex in size with a set of different glass thicknesses.
Laminated glass certified and meets the requirements of DSTU B V.2.7-123-2004 (GOST 30826-2001), DSTU B.V.2.7-110- 2001 (GOST 30698-2000).
Technical characteristics of the laminated glass:
minimum sheet size: 250 * 250 mm
the maximum glass size: 2250 * 4000 mm
the thickness of the glass panes consist of a set of thickness: 3, 4, 5, 6, 8, 10, 12, 14, 16, 18 and 20 mm (depending on the customer's requirements) but not more than 90 mm;
protection classes SP1, SP2, SP3 and P1, P2, P3, TC1, TC2, TC3, depending on the set of layers and the thickness of the glass;
the possibility of using colored films
ability to work with energy-saving glass
The warranty period of the laminated glass is fixed in the technical documentation, but not less than five years from the date of shipment.
The main quality of laminated glass:
operational safety (provides a high level of security: when broken laminated glass does not scatter into small pieces and held the film);
reliability (special strength of laminated glass shows that laminated glass is much more resistant to any deformation and mechanical stress capable of leading to its destruction. Using films of different protection class allows to make bullet-proof and impact-resistant glass.);
noise (high insulating properties of the inner bonding layer of the laminated glass makes effective soundproofing material. It can effectively reduce the impact of unwanted noise and has improved sound insulation.);
workability (unlike conventional tempered glass, laminated glass may be cut, drilled holes, producing edge processing);
durability (laminated glass is reliable in operation, resistant to abrasion, precipitation, color stability, strength, optical transparency of glass and other quality attributes for the entire service life);
versatility (wide range of colors and thicknesses of the laminated glass film is the base of a variety of safe and reliable design solutions).
Triplex production