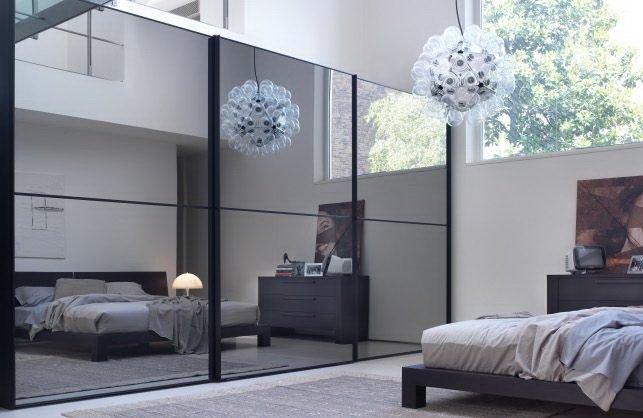 Mirror - a reflection of our lives. The use of mirrors is boundless. Sheet mirror - an integral part of modern buildings, many fashion trends of interior styles. The presence of a mirror is capable to decorate any modern architectural structure - both outside and inside. Thanks to designer fantasies, use of mirrors is no longer limited to their traditional, utilitarian function, but acquires a new meaning, revealing their ability to enhance the illusion of space and light.
Mirrors are manufactured using the most advanced technologies and using environmentally friendly materials (by electrolytic deposition of silver on the glass), which allows customers not to worry about the environmental atmosphere of the room, where mirrors used and feel comfortable and perfectly.
Buy a mirror in Ukraine
The technical capabilities of the mirrors production:
produced mirrors sizes: 3210x2250mm, 2550x1605 mm;
type of the mirrors: bronze/grafite/ultra/colourless;
mirrors' thickness: from 3mm to 6mm;
During the manufacture of the mirrors high – quality float glass uses, which improves performance and ensures high aesthetic quality of the mirror surface.
Produced mirrors differ by the following characteristics:
plumb is not a part of the protective ground;
durability and resistance to aggressive weather conditions (moisture, oxidation, temperature extremes);
resistance to derivatives of ammonia and components of cosmetic aerosols;
quality meets all requirements of the applicable standards.
Do you want to order solar glass additionally? Then contact us!
LLC "LEASING INVEST" company has the opportunity to offer solar control glass with a soft coating Reflect blue (blue), Reflect bronze (bronze), Reflect green (green), Reflect graphite (grey)
(TU U 26.1-31380846-004: 2008).
Drilling, cutting, processing of mirror edges

We offer the following services:
drilling a mirror;
figured and linear processing (dulling, polishing, polishing-European edge);
cutting the mirror into size;
Your inquiry successfully accepted, we will contact you as soon as possible.
Contact for consultation or order:

Director - Rybalkin Sergey Alexandrovich
Phone:+38 (050) 571-31-16
Email: This email address is being protected from spambots. You need JavaScript enabled to view it.

Sales department:
Phone:
+38 (050) 053-34-63
+38 (098) 184-84-00
+38 (098) 185-00-70

Email: This email address is being protected from spambots. You need JavaScript enabled to view it.

Sales department Kiev:
Phone: +38 (067) 233-53-80

Or use the "Back call" form and we will call you back.

tags: mirror, mirror sheet, buy mirror, order a mirror, cut the mirror, glass factory, making a mirror, printing on a mirror, silkscreen mirror, mirror to order, delivery in Europe, Ukraine